H.R Textile – a leading apparel exporters, which is also a sister concern of the pride group in Bangladesh, plans to expand its capacity in sustainable production and a variety of products.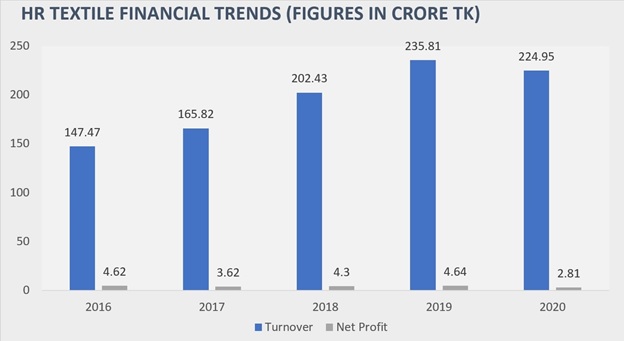 To achieve the goal, the company – will invest Tk80 crore. The fund will be raised from the capital markets with zero-coupon bonds.
According to the textile mill's board of directors, the new facility will increase its annual turnover to Tk365 crore, from Tk225 crore at present. Besides, it will help create about 1,500 fresh jobs above the current employment of about 2,500 people at H.R Textile.
Since 1997, the company is enlisted in the stock market and their share price was Tk32.90 as of 8th April (Thursday).
In addition, its earnings increased by 18 per cent to Tk138 crore in the first half of this fiscal year.
According to the financial report from April to June last year, the company's revenue increased by 28 per cent, despite the 66-day general holidays from 26th March. They also paid a 10 per cent cash dividend to shareholders for the last fiscal year.
H.R Textile Director as well as a director of the BGMEA, professor Mohammad Abdul Momen opined, "We plan to expand our capacity in sustainable production, as global buyers are moving towards more environmentally friendly products in terms of consumption of energy, water, and chemicals."
In this regard, the textile factory has a plan to convert its existing chemical effluent treatment plant (ETP) to a biological ETP to make it more environment-friendly, he added.
Our business also plans to install some latest technologies and machinery to make it a more efficient production centre, said Professor Abdul Momen.
Meanwhile, the high-value apparel manufacturer is producing women's wear for European markets. Spanish fashion giant INDITEX Group and some buyers for German and French markets are the buyers.
"We are producing high-value products for summer and winter. That's why we have full orders all year round," said Professor Momen.
He also mentioned that the company can meet 100 per cent of buyer requirements with its own fabrics in line with a variety of products.
The enhanced capacity will help the company offer some diversified products to existing buyers to boost its turnover, he concluded.
Source: